ZedBand: The Best of Headband from Alien Labs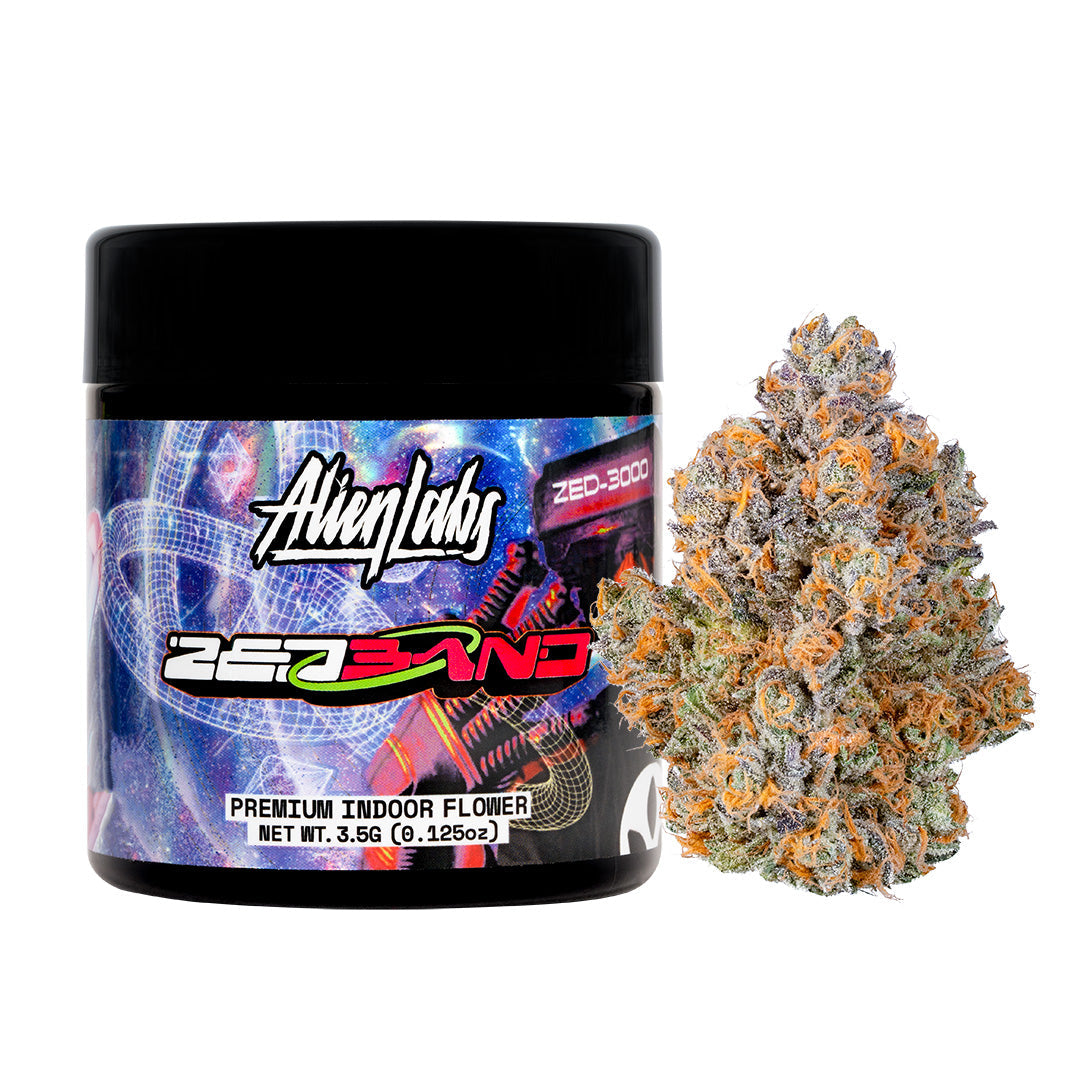 ZedBand from Alien Labs
Thank you to WestCoastCanna for this strain review. 
First Impressions: 9.3/10
Bred by Alien Labs, the ZedBand showcases itself as a perfectly balanced 50/50 Hybrid, resulting from the intersection of Zkittlez and Headband strains. My review sample came in the form of 2 dominant large nugs, complemented by 4 smaller ones. Their density is remarkable, and their distinctive, lumpy growth pattern gives them a unique appeal. The kaleidoscope of greens, accented by fiery tangerine hairs, is dazzling, with a frosty trichome blanket hinting at the power within. The cure seemed slightly under, which, in my opinion, is still better than being overcured.
Details:
Package Date: 05/26/2023
Total THC: 30.83%
Total Cannabinoids: 37.11%
Aroma and Palate: 9/10
The experience starts with a bold aromatic punch of ground black pepper, unmissable and intensely fragrant. As this powerful note subsides, you're met with a symphony of sweet and sour overtones - lemon and grapefruit leading the parade, with whispers of grape and musk lingering in the background. The flavor profile mirrors this olfactory journey - a spicy kick, softened by a lingering sweet finish. The only critique here is the slightly sluggish burn, marked by a deeper ash hue.
Effects: 9.5/10
True to its 50/50 hybrid roots, ZedBand delivers an instantaneous cerebral embrace - a trademark of the headband lineage. This initial rush soon mellows into a serene and euphoric haze, enveloping both the mind and chest. While it won't send you off to slumber, it proficiently soothes the senses and sparks a wave of creative euphoria. Its potency is felt more profoundly with each subsequent puff, characterized by a notably extended peak.
Verdict: 9.3/10
ZedBand offers an invigorating dance of peppery fervor and subtle sweetness, underlined by a wave of tranquility and euphoria. The only hiccup in this otherwise mesmerizing experience is the slightly lackluster burn. But all in all, a must-try for those seeking a unique floral adventure.